DRAYTON BRENNAN MEMORIAL SCHOLARSHIP FUND
---
---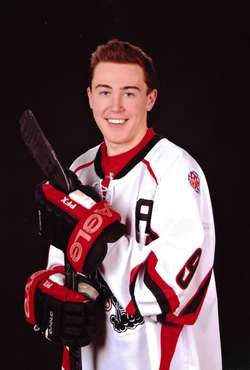 ---
DRAYTON BRENNAN MEMORIAL SCHOLARSHIP FUND

In May, 2016 the Peace River Minor Hockey community lost a valued member of their family. Drayton Brennan began his hockey career in Manning, AB at the young age of 4. The family moved to Peace River when Drayton was 5 and he played out the rest of his hockey years with Peace River Minor Hockey. Drayton continued playing hockey for an additional three years at the Junior B level. 20152016 was a special year for Drayton as he shared his love and knowledge of hockey coaching the Bantam AA Sabres. This was exciting for Drayton and his younger brother Terrik who played on the team!

Hockey was an important part of Drayton's life and that of his family's. Many memories were made at the rink and lifetime friendships were formed. Drayton was always a team player and recognized the importance of being a part of the special bonds that are built between the players and coaches on a hockey team.

At the time of Drayton's passing, the family wanted to give back to the community that helped to raise Drayton. The Drayton Brennan Memorial Scholarship Fund (DBMSF) was established. This scholarship is intended to remind the players and families who apply to remember the importance of being a player, a friend, a competitor, a coach, and to always believe in the game of hockey.

Purpose

The purpose of the DBMSF is to provide players who currently are participating or have recently participated in the Peace River Minor Hockey Association (PRMHA) who are of good character, have demonstrated hockey ability, and who qualify to further their education in at a recognized PostSecondary Education Institution. The scholarship will also be available for those students entering the trades programs. The recipients must exhibit the qualities on and off the ice that model the spirit of a team player. Examples include, but are not limited to, dedication, a hard worker, tenacious, and putting others before self.

Eligibility

Scholarships may be awarded to the following players: • Players who have participated as a player with PRMHA at PeeWee level or higher for a minimum of two consecutive years; • The player(s) has maintained good standing and fulfilled all obligations and expectations as established by both the teams played for and on behalf of PRMHA; • The player(s) has demonstrated good sportsmanship and conduct on both the teams played for and on behalf of PRMHA; • Player(s) who may have completed their third year of Midget hockey, and have not finished their grade 12 year are still eligible to apply once they have completed grade 12. • Player(s) who have completed high school and have decided to take a gap year from education are still eligible to apply when they have registered for post-secondary studies.

Number and Value of Scholarships

It has been determined that there will be a minimum of 1 scholarship valued at $500, awarded annually on or before June 30th.

Scholarship Selection Committees

To facilitate the selection of the Scholarship Award Recipients, the Scholarship Committee will consist of: • 1 member of the PRMHA Executive; • Max and Sandra Brennan (parents of Drayton Brennan).

Application Procedure
Scholarships will be awarded on a "by application" process, meaning that players must apply for the scholarship. Applications must be received by the DBMSF Committee by May 31st of the current hockey season.

Valid Applications will include the following: • Copy of the most recent High School Transcript; • Copy of record from Post Secondary Institution verifying full-time attendance and academic standing, (if available). Proof of application must be provided if acceptance has not been received. • At least two (2) Letters of Reference from high school teachers, hockey coaches, members of the community; • List of volunteerism or community involvement; • A short paper, of not more than 250 words entitled "How has hockey made a positive impact in my life?"
Criteria for Scholarship Award
Scholarships will be awarded to those candidates judged most deserving by the respective Scholarship Selection Committee. The Committee's decision will be final.

Full consideration will be given to the following factors: • Applicants community spirit and leadership qualities • Applicants hockey ability and sportsmanship

Timeline

Fully completed applications (see Selection Criteria) must be received by May 31st each year, and mailed to: Sandra and Max Brennan - Drayton Brennan Memorial Scholarship Fund 8237 - 105 Avenue, Peace River, AB T8S 1M8 Or via email to: dbrennanscholarship@telus.net

Awarding of Scholarships

Players will receive funds directly from the DBMSF for their own use. Successful recipients of the Scholarship will be provided with a letter from the DBMSF congratulating them on their successful application. Only successful recipients will be contacted by the Committee.
Drayton Brennan Memorial Scholarship Fund Application.pdf
Drayton Brennan Memorial Scholarship Fund Program Information.pdf